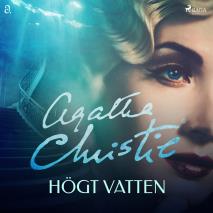 Isbn:
978-87-1178-840-0
Publisher:
Saga Egmont
Category:
Crime & Mystery
Accessible since:
March 2018
Narrator:
Peter Öberg
Length: 7 hours 24 minutes
---
Högt vatten
När den förmögne Gordon Cloade plötsligt dör börjar hans släktingar vältra sig i pengar och lyx. Men plötsligt dyker en obekant arvinge upp, en änka som ingen känt till, och gör anspråk på alla miljonerna. Nu finns det fem personer med väldigt starka motiv att döda. Strax efteråt sker en hel del gåtfullheter som kulminerar i ett mord. Men det är faktiskt inte änkan som är offret och Hercule Poirot får gräva djupt för att hitta lösningen på mordgåtan.

Agatha Christie (1890-1976) var en brittisk deckarförfattare och världens bäst säljande författare efter Shakespeare med över 4 miljarder böcker sålda på engelska och andra språk. Mest känd är hon för detektiven Hercule Poirot. Tillsammans med Arthur Conan Doyle är hon den som har format deckargenren mest. 


-- 
Translation entitled "Högt vatten" © 1948 Agatha Christie Limited. All rights reserved. 

Taken at the Flood © 1948 Agatha Christie Limited. All rights reserved. 

AGATHA CHRISTIE ® POIROT ® are registered trademarks of Agatha Christie Limited in the UK and/or elsewhere. All rights reserved.
Listen to sample
---