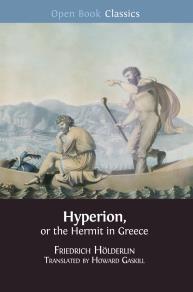 Hyperion, or the Hermit in Greece
Friedrich Hölderlin's only novel, Hyperion (1797–99), is a fictional epistolary autobiography that juxtaposes narration with critical reflection. Returning to Greece after German exile, following his part in the abortive uprising against the occupying Turks (1770), and his failure as both a lover and a revolutionary, Hyperion assumes a hermitic existence, during which he writes his letters. Confronting and commenting on his own past, with all its joy and grief, the narrator undergoes a transformation that culminates in the realisation of his true vocation. 

Though Hölderlin is now established as a great lyric poet, recognition of his novel as a supreme achievement of European Romanticism has been belated in the Anglophone world. Incorporating the aesthetic evangelism that is a characteristic feature of the age, Hyperion preaches a message of redemption through beauty. The resolution of the contradictions and antinomies raised in the novel is found in the act of articulation itself. To a degree remarkable in a prose work of any length, what it means is inseparable from how it means. In this skilful translation, Gaskill conveys the beautiful music and rhythms of Hölderlin's language to an English-speaking reader.
---