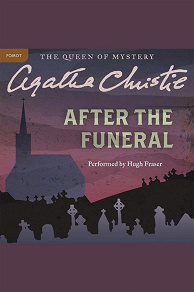 Isbn:
978-00-6222-937-3
Publisher:
HarperCollins
Category:
Novels
Crime & Mystery
Accessible since:
February 2020
Narrator:
Hugh Fraser
Length: 6 hours 56 minutes
---
After the Funeral
When Cora Lansquenet is savagely murdered with a hatchet, the extraordinary remark she made the previous day at her brother Richard's funeral suddenly takes on a chilling significance. At the reading of Richard's will, Cora was clearly heard to say, "It's been hushed up very nicely, hasn't it. . . . But he was murdered, wasn't he?"
In desperation, the family solicitor turns to Hercule Poirot to unravel the mystery. . . .
This title was previously published asFunerals Are Fatal.
Listen to sample
---