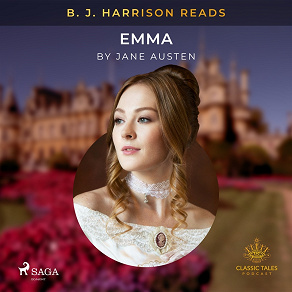 Isbn:
978-87-2657-452-4
Publisher:
Saga Egmont
Category:
Novels
Historic facsimile
Romance
Accessible since:
November 2020
Narrator:
B. J. Harrison
Length: 9 hours 9 minutes
---
B. J. Harrison Reads Emma
Jane Austen's fourth and funniest novel introduces us to many different characters. We learn about their relationships and love life. Emma Woodhouse is a twenty-year-old girl, whose governess, Miss Tylor, has recently married a Mr Weston. Emma takes credit for their marriage and decides that she is naturally gifted in conjuring love matches. This becomes her new hobby and she starts arranging dates for her acquaintances. Does Emma really have any talent for matchmaking or she cause more unhappiness than she can imagine? Find the answers in Jane Austen's novel "Emma" from 1815.


Jane Austen (1775-1817) is one of the most beloved British writers of all time. During her short life she published six novels: "Sense and Sensibility", "Pride and Prejudice", "Mansfield Park", "Emma", "Northanger Abbey" and "Persuasion", all of which are considered literary classics today. Her writing is full of sharp observations on the society in which she evolved, as well as ripe with timeless irony, and a solid dose of humor. She has created immortal characters that have inspired countless authors, novels, and movies such as 'Bridget Jones' and 'Clueless'.

B. J. Harrison started his Classic Tales Podcast back in 2007, wanting to breathe new life into classic stories. He masterfully plays with a wide array of voices and accents and has since then produced over 500 audiobooks. Now in collaboration with SAGA Egmont, his engaging narration of these famous classics is available to readers everywhere.
Listen to sample
---