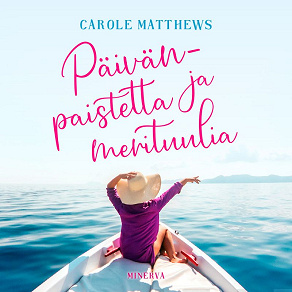 Päivänpaistetta ja merituulia
Romaani täynnä aurinkoa ja romantiikkaa.
Romantic Comedy Novel of the Year -palkinnon voittaja 2021.
Jodie Jacksonin tunne-elämä on riekaleina - useammasta kuin yhdestä syystä. Saadakseen aikaa koota itsensä ja ajatuksensa hän lähtee yksin Isle of Wightille ja jättää taakseen elämänsä Lontoossa, uransa ja aviomiehensä.
Asetuttuaan asumaan veljensä omistamaan asuntolaivaan Jodie saa pian huomata, ettei hänen etsimästään yksinäisyydestä ole toivoakaan. Siitä pitävät huolen Jodien veljen palkkaama tarmokas kotiapulainen Marilyn sekä naapurissa asuva komea kuvanveistäjä Ned.
Nedin kanssa saareen ja sen asukkaisiin tutustuessaan Jodie alkaa pian nauttia löytämästään uudesta vapaudesta. Kun entinen elämä sitten yllättäen koputtaa ovelle, on Jodien pakko tehdä vaikea valinta.
Carole Matthews on brittiläinen menestyskirjailija, joka on kuuluisa huumorintajustaan ja romanttisista komediaromaaneistaan. Hänen kirjojaan on myyty yli 6,2 miljoonaa kirjaa maailmanlaajuisesti, ja niitä on julkaistu yli 31 maassa. Matthews rakastaa samppanjaa, suklaata ja kakkujen leipomista ja harrastaa tanssimista, zumbaa ja elokuvien katsomista.
Listen to sample
---