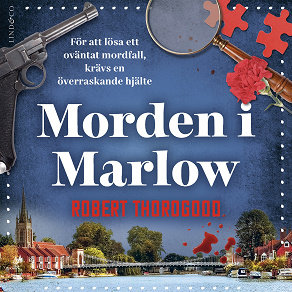 Isbn:
978-91-8051-546-7
Publisher:
Lind & Co Förlag
Category:
Crime & Mystery
Accessible since:
October 2022
Narrator:
Cecilia Nilsson
Length: 10 hours 29 minutes
---
Morden i Marlow
För att lösa ett oväntat mordfall, krävs en överraskande hjälte ...

77-åriga Judith Potts i Marlow är en alltigenom lycklig kvinna: Hon bor för sig själv i ett vackert men aningen slitet hus i Arts and Craftstil vid Themsens strand. Hon konstruerar korsord till The Times och gläds över att det inte finns någon man i hennes liv som talar om vad hon ska göra eller hur mycket whisky hon bör dricka. En sen kväll, då Judith tar sin dagliga simtur blir hon vittne till det brutala mordet på grannen med hus på andra sidan av floden. Då polisen sedan inte vill tro henne, tar Judith lagen i egna händer och börjar luska i saker och ting på egen hand. Tillsammans med två osannolika vänner hon hittar under utredningens gång, bildar de Marlows egen lilla mordklubb. Men när ytterligare en död kropp dyker upp och de plötsligt verkar vara en äkta seriemördare på spåren, har pusslet de bestämde sig för att lägga kommit ett bli en fälla de kanske inte kan ta sig ur ...

"Morden i Marlow" är en pusseldeckare av bästa slag, där engelskt småstadsgemyt, en excentrisk gammal dam och brutala mord återfinns bland ingredienserna.
Listen to sample
---